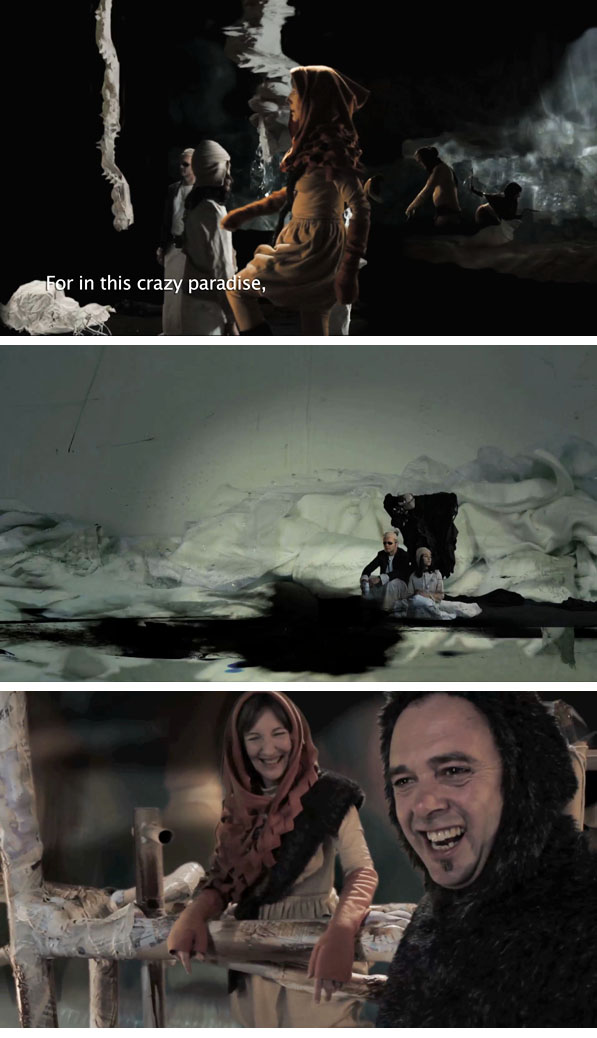 The short film De Eeuwige Optie [The Everlasing Option] has been recently produced by SpOp and was presented on the 7th of October 2011 in Worm, Rotterdam.
Screenings: gallery Blaak010, Rotterdam;
Noorderlicht gallery, Groningen.
as an installation from the 8th of March 2012 through to 10th of April in Roodkapje, Roterdam.
In Februari 16th in Hedah, Maastricht - an evening with a screening followed by a concert of Zoikle.
The film is a modern fable about human production within the structure of a group. How tolerant is the group to outside elements while it is trying to achieve its goals?
The film comments on the illusionistic aspect of market economy. Fictive structures being invented within a closed circuit; and suggesting to embark an open mind set instead - hence artistic production as a principle for all production.
As Taylor C., a semi mythological figure announces: " Any construction is a reconstruction of the kernel idea "
[HD 23.03min.]
A compilation of this film on SpOp's vimeo channel

Actors: G.W. Sok, Ilse Froklage, Tamarah Verhoog, Eugène Büskens, Martine Van Ditzhuyzen, Ieke Trinks, Arjen Stavenuiter, Rubin Verhoog, Roelof Kuipers, Anna De Measschalck, Rafaëlle Kwakkel, Remco Beeskow, Marieke van Hensbergen, Gülümcan Tezcan, Flori Wassenaar, Sabine Alders, Nick Wuestenenk, Suzanne Hoogeven, Renske Ronde.
Music: Lukas Simonis & Nina Hitz + G.W. Sok
Sound: Maarten van Gent
Camera: Lenno Verhoog
Costumes: Pepavana
Assistance & photos: Pepavana & Yvonne Brouwers
Décor: SpOp
Edit & manipulation: SpOp
Script & director: Marit Shalem
Production: SpOp
Support: The Netherlands Film Fund and the Departmet of Culture - Rotterdam Council