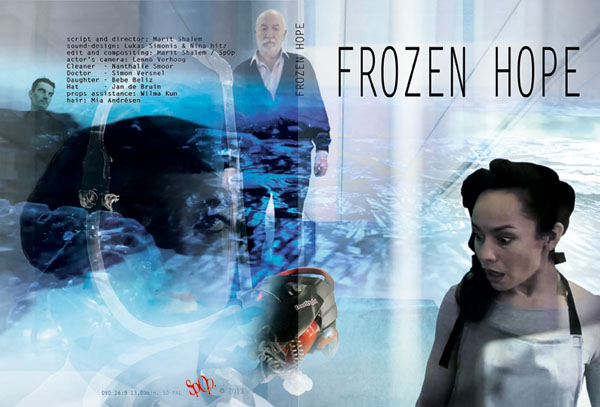 Frozen Hope is an experimental video film (13:03 min.) set in between film and visual art. A video-painting supported by music and a voice-over. A floating journey through digitally manipulated space, consisting of decor fractions and the inhabiting characters.
Frozen Hope has first appeared as a radio play and is now turned visual. It reflects upon the colder side of human interaction, the capability of the one person to determine the destiny of the other.
The full compilation on vimeo: XXX
Screening
4th Oct. 2013 Klooster Rotterdam, Vrooom evening.
Streamingfestival, The Hague NL
Madatac 05, Madrid ES
13 apr. 2014 Off Screen Rotterdam
May 2014 VideoVareo Vidoelounge Rotterdam
January 22 – February 1, 2015 on R>>EJECT RADICALS, Roodkapje, Rotterdam
June 2016 - FIVC OFF (Videodanca) in Santiago del Chile.
Synopsis:
A former cleaner is reconstructing the last episode of her life. She does this in a frozen condition from within a cold-store. In fragments of memorizing, according to the track of vacuum cleaning, she re-walks her employer's flat. Objects and figures coming her way, lead to a curious revelation of her destiny.
The notion of coldness is central to Frozen Hope, both its physical feel and its connotation: apathy and pure calculation as a driving force; isolation and a forced retreat as an allegory to the condition of the one employed.
A constructivist and collaged space of walls and niches through which the camera floats and then again stops. The scenes and pictures enable the viewer to enter the mind of the protagonist - the Cleaner. The space is grainy and dark, figures, architecture and objects emerge from within the distortion. The acting is reduced into a set of gestures consisting of simple features, exchange of glances and patterns of movements.
With: Nathalie Smoor, Simon Versnel, Bebe Beliz and Jan de Bruin
Music: Nina Hitz & Lukas Simonis
Actor's camera: Lenno Verhoog
Prop assistance: Wilma Kun
Hair: Mia Andrésen
Distribution: SpOp & Eye/Experimental film
*download info pdf Frozen Hope
A Frozen Hope compilation on SpOp's vimeo here : X
purchase also through the Wormshop: XX