Zimp & Co land on the planet Apatia intending to find substances of the real Real. Being trapped by Hønkemüller, a nature artist with domina's features, they realize the only way to gain individual freedom goes along hidden corners of the unexpected.
Catch on a Datcha is an experimental film which combines semi sci fi prose with collaged visuals. The actors in futuristic costumes are placed into an environment resembling modernist architecture and silent-movie's spasms.
As a video installation: LEO XIII Tilburg and on It Never Happened Noordkaap festival, Dordrecht.
In Madrid, Spain, Madatac 06 11/12/2014 - 11/01/2015
2015 NL=US gallery, Rotterdam
Mirta Demare gallery, Rotterdam
Compilation: Catch on a Datcha
Interview on Stigmart/Videofocus.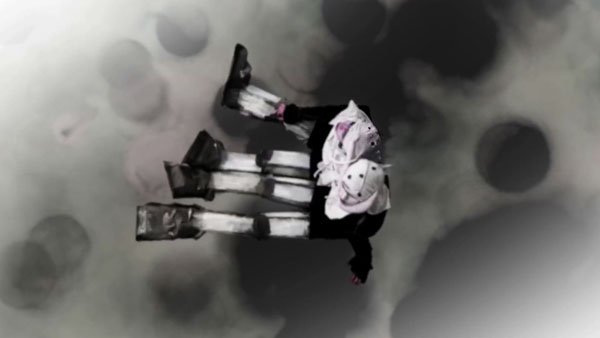 HD, 17min., 2014
With: Michelle Wilderom as Hønkemüller and Gülümcan Tezcan and Joost Bult as Zimp & Co.
voice over: Fania Sorel
actor's camera: Era Vati
soundscape: Vincent Denieul
make-up: Gülümcan Tezcan
titles: Koos Siep